The day before the special election for congress in #MS01, Morgan Baldwin, North Mississippi campaign guru in charge of Trent Kelly's campaign for congress, found himself at the Parham Bridges Tennis Center in Jackson, Mississippi, as the Tupelo High School Tennis coach; he couldn't miss the state playoffs, his team needed him. Baldwin had stretched the Kelly limited campaign dollars as far as they would go and was hopeful that the Kelly GOTV (get out the vote) effort would carry the day. As his phone blew up, even he couldn't have imagined that his candidate would find himself the next night in the runoff with the lone democrat Walter Zinn, in essence sealing the win for Kelly and completing a remarkable 16 year run for Kelly from city court prosecutor to district attorney to congress.
Trent Kelly's career in public service began over 15 years earlier, in my law office in Tupelo, Mississippi. Mayor Glenn McCullough, who currently serves as Director of the Mississippi Development Authority, arrived in the Fall of 1998 to ask me to serve as his Tupelo Municipal Court Judge; I had a weak moment and accepted the "part time" job under the condition that the city dedicate more resources to bring the docket under control and streamline case management. A large part of my "Municipal Court Improvement Plan" hinged on adding another municipal judge and a full time city court prosecutor. I had examined the legal fees being paid to a part time prosecutor and determined the city could have its own full time attorney to prosecute with attention being given to working with the police department on a daily basis. One Tupelo attorney recently said to me "No one wanted the job!" In reality, I recall three attorneys applied. Mayor McCullough and I decided on a struggling solo practitioner named Trent Kelly, who was a graduate of East Central Junior College and Ole Miss. Kelly was quick with a smile, had an easy going personality and never seemed to get upset. If he did it wasn't for long. For over a decade, Kelly was in the trenches of city court grinding it out, handling literally thousands of misdemeanor cases. Kelly forged deep ties to law enforcement while working in city court. Many of those contacts encouraged him to take on one of the toughest assignments in North Mississippi politics.
First Judicial District Attorney Johnny Young of Corinth had served eight terms as DA in 2007 for Alcorn, Prentiss, Lee, Itawamba, Monroe, Tishomingo, and Pontotoc counties. He had beaten several men who either serve as circuit court judge currently or did in the past: Tommy Gardner in 1975, Frank Russell in 1979 and Jim Roberts in 1983. In 1990 he beat Ole Miss football star Julian Fagan of Amory. Kelly was convinced to run as a democrat and try to end Young's 32 year run. Only a few lawyers would dare to make a reportable contribution to Young's opponent, and I was one of them. It was time for Young to retire for a number of reasons, but he qualified to run for a ninth term. I recall being at the famous Forth of July political rally at Jacinto Courthouse in Alcorn County; I was riding with now Public Commissioner Brandon Presley. DA in waiting, Arch Bullard, Young's top lieutenant was in charge of introducing the speakers. Kelly signed up to speak and waited and waited. Bullard made the future congressman Kelly cool his heels for an hour saying he would get to him as soon as he could. It was a bush league tactic. Kelly called afterwards fuming mad at the disrespect shown him by Bullard. Kelly lost that race badly in the democratic primary 55% to 45%, but he wasn't done. After the 2007 race, I saw Johnny Young at the Mississippi Capitol where I now work as a contract lobbyist. I was going to avoid him, but he saw me and wanted a confrontation as he had seen my name on Kelly's campaign finance report. I shook his hand and congratulated him adding "You know I supported Trent. We are friends from city court. I am sure you understand." Young lectured me "You know he qualified and didn't even come see me, so I just ran and whipped him!"
In 2011, Young should have called it quits. He had Bullard in waiting to run but Young once again decided to run for a tenth term. Kelly called to tell me that he was running as an elephant and that he was going to win. As a student of political history, I knew that the First Judicial District DA had been a resident of Alcorn County for 50 of the last 56 years. (See link below) In addition to Young, Soggy Sweat who later served as Circuit Court Judge and made the famous whiskey speech had served as DA as well as Neal Biggers who went on to serve as both a Circuit Court Judge and a United States District Court Judge. Kelly did what no one thought could be done, he beat 36 year incumbent Johnny Young and secured his place in history as a giant slayer: 52.5% to 47.5%. Young's winning steak of 10 straight elections was over. Kelly's political star skyrocketed. I was in Tupelo after his election in 2011 and texted to come and see his new office. He texted back for me to stop by. I was greeted at the reception desk by a former secretary from our days at city court. The aw shucks casually dressed Kelly, a native of Union, Mississippi, was relaxed. He called me a mentor: we laughed as he is a few months older than me; we were both born in 1966. I asked "What's next?" He didn't miss a beat "I am going to run for congress if the seat ever opens up." Neither of us had any idea that Congressman Alan Nunnelee would be stricken with cancer that would shorten his storied career in public service. Kelly and I discussed his national guard contacts and a pathway to higher office. As I drove away from his office, I thought to myself that folks would do well not to underestimate Kelly in the future.
The Good Ole Boys Cookout in North Mississippi at Johnny Morgan's shop in Oxford is the epicenter of North Miss politics. My favorite story about the political speakings at GOB was when Ricky Cole ran for Agriculture Commissioner: Al Hopkins had spoken earlier and was criticizing Attorney General Jim Hood for taking contributions from trial lawyers saying "If you give me a $1,000 it won't influence me." Cole stood up to speak and said "Mr Hopkins just said it you give him $1,000 that it won't influence him. Well, I am up here to tell you that if you give me $1,000 you gonna sho get what you want!!!!" The crowd went nuts, it was the line of the night, ole school stump speaking, putting the corn on the ground. The good ole boys don't want to hear an ethics lecture, just tell it. My solution to the crowded chaotic GOP field in #MS01 in 2015 was a simple rule: if a candidate has been to the Good Ole Boys Cookout, he or she can run in the special election. If not, he is off the ballot. This rule would have eliminated about 75% of the candidates in the race and gotten it down to the candidates who had a winning chance. Instead, all manner of candidates poured their own money in to the race, erasing about $1.3M in personal wealth. Numerous studies have shown that self funding doesn't work in these campaigns. The best evidence of this: the top three voters getters on May 12th in #MS01 did not spend any personal money.
As the field of 13 candidates qualified to succeed Nunnelee, Kelly was sitting in the catbird seat. He had hired Baldwin, which meant that the endorsement of Nunnelee's widow Tori was assured. Nunnelee's communications director Elizabeth Parks came down to serve as campaign manager to the Kelly campaign and took up residence at the Nunnelee family home. Other candidates boasted of knowing Mrs. Nunnelee, going to church with her, being friends, but Kelly knew he had what others wanted to break out of the race. The endorsement was done in a low key kind of way: the Nunnelee committee and political action committee directed $9,400 to Kelly for Congress, and Mrs. Nunnelee issued a statement saying the late congressman had great respect for veterans like Kelly. Tori Nunnelee, who had declined requests to run for the seat and serve in congress, had what many think was a decisive role in choosing her husband's successor.
Many establishment donors had lined up with Transportation Commissioner Mike Tagert of Starkville. His campaign finance report read like a who's who of Mississippi GOP power brokers. On Monday, April 13th Kelly held a fundraiser in Jackson. As I arrived with my wife Sara on a rainy night, I surveyed the handful of guests. Lobbyist Hayes Dent, who I had recruited to the Kelly Campaign as he is a gulf war vet like Kelly, announced "We've had 25-30 come through tonight!" I chuckled knowing it wasn't true and that very little money had been raised. I had resorted to asking military officials to come see Trent to try and fill the room. General Durr Boyles, Kelly's supervisor in the National Guard, told me that Trent is highly intelligent and has a photographic memory. I wanted to know this from Boyles: how many veterans and guardsmen are in #MS01? I learned that the Kelly Campaign estimated as many as 20,000 vets live in the first district and around 2,500 active guard members. What better group to lay hold of in a 13 way special election? As I departed that night I was certain that Kelly would make the runoff and once he was in the runoff, that he was going to congress. The short sprint of a race was tailor made for Kelly. His Lee County base was key, and he wouldn't be bogged down in a lengthy race that would allow Tagert to heavily outspend him. I pointed out in earlier writings that Kelly's only weakness was fundraising, but he had a plan to maximize his dollars, and it worked to perfection. Kelly spent $4.22 a vote, the lowest per vote amount of any GOP candidate on May 12th. He made the runoff without running a single TV advertisement in the expensive Memphis media market.
Walter Zinn's success as the lone democrat was completely under the radar because he did not raise any money and ran a shoe leather type race. Once Zinn reached the runoff, the race was basically over as Kelly cruised with 70% of the vote. The only problem the Kelly campaign had in the runoff was voter apathy. Kelly who had resorted to a duct tape and hay baling wire campaign in the first, would now have the funds to conduct the GOTV campaign that he needed in the runoff. Funds in fact poured in from DC and the usual establishment GOP donors.
Candidates in the future would be wise to study and take note of who has won this seat since Congressman Jamie Whitten retired in 1994. Congressmen Roger Wicker, Travis Childers, Alan Nunnelee and now Trent Kelly have much in common: all are residents of Lee County, but for Childers in neighboring Prentiss County. All are graduates of either Ole Miss or Mississippi State. All four men are proven vote getters who had been elected to office prior to running for congress with deep roots in their communities. They were all elected in their 40s or early 50s and are married and have raised children in their longtime hometowns while being active in church and civic leaderships roles. No one has won this seat who is real young, or too old to obtain seniority in congress. Voters say of young candidates: "It isn't his time." Of older candidates: "We need someone younger who can get a chairmanship and help the district." Voters place a premium on real life experiences: raising kids, working hard at a job for a longtime, being a member of a church, volunteering for civic causes, and mentoring young people as a little league coach, youth leader or scoutmaster. In order to have these kind of connections, a candidate needs to have put down deep roots and branched out in his community. Likewise, he needs to have run for and won an office before congress and succeeded in that position. Candidates love to say "I'm not a career politician" but this hasn't worked in #MS01 as candidates need a resume of public service to be successful. In GOP circles, being a lawyer isn't helpful to a candidate, but Kelly is a career prosecutor and voters don't know if he was in Tupelo City Court or is the United States Attorney. They think he is putting the bad guys in jail and that's what matters most. Trent Kelly took a job no one wanted in the Tupelo Municipal Court and worked at that level for 12 years. That experience, in essence, put him on a path to congress. It is a strong lesson about hard work for all of us.
One ripple effect of the Kelly victory in #MS01 was the appointment by Governor Phil Bryant of Kelly placeholder Assistant DA John Weddle as DA in the First Judicial District. Weddle, a former Tupelo Municipal Court Judge with a decade of experience, will most likely face the same Democrat Arch Bullard of Corinth who waited so many terms for his shot at DA. With the long term success of Houston, Mississippi, native Attorney General Jim Hood, a former DA, both political parties should note that the office of DA is now a training ground for the office of attorney general, or in Kelly's case congress. DA Michael Guest of Madison and Rankin Counties reportedly waits for his shot at AG. The Weddle v Bullard race will position the winner as a possible candidate for attorney general or an important spot in the judiciary such as the Mississippi Supreme Court. In the past, only lawyers cared much about DA races; the stakes are now much higher in today's political climate.
September 11, 2001, forever changed America. After 9/11, Eagle Scout Trent Kelly served two tours of duty in Iraq, saw combat and was awarded two bronze stars. He is a very middle class guy who was willing to serve his country. He has primarily worked as a prosecutor and in the military where he is now a colonel in the National Guard. In this post 9/11 world, our nation would be well served to elect more people like Trent Kelly. He will serve with honor and distinction.
Please click here to read History of the office of District Attorney for the First Judicial District by Circuit Court Judge James Lamar Roberts, Jr.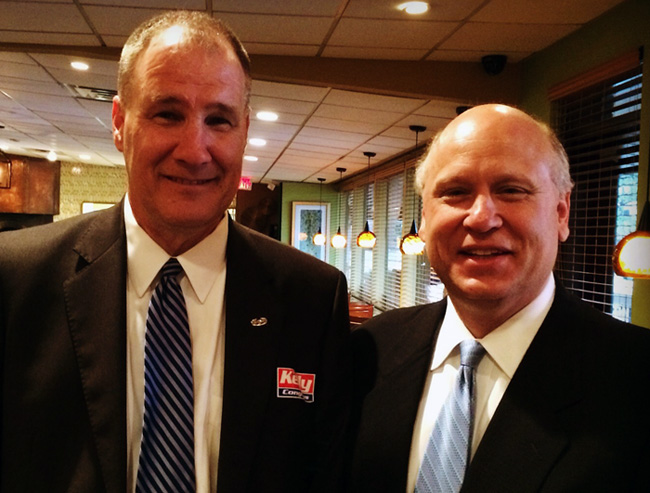 Congressman Trent Kelly is pictured here with Grant Fox at the Kelly for Congress Fundraiser
at Bravo Restaurant on April 13, 2015, in Jackson, Mississippi.
---
Grant Fox is a native of Chickasaw County and ran for the CD1 seat in 1994. He lived in the district for over three decades. Fox is admitted to practice law in Arkansas, Mississippi, and Tennessee. He also works as a contract lobbyist at the Mississippi Capitol. He and his family live in Rankin County. He may be reached at grant@grantfox.com.